Citizens put 30,000 lanterns at Kokura Castle
Date time
Held for 7 days: October 27th (Friday), 28th (Saturday), 29th (Sunday), November 2nd (Thursday), 3rd (Friday), 4th (Saturday), 5th (Sunday), 2020
Location
Kokura Castle, Toranomon and surrounding areas
Time
Lights on at 17:30 (let's all bring a chukka man and light it) Lights off at 21:00
*The gates will close at 21:00, so you can only enter the castle until 20:45. (Everyone will leave the castle at 21:00)
Fees
Some fees apply Kokura Castle Tower Square Admission fee: 500 yen (Environmental cooperation grant/Junior high school students and above)
Ticket sales hours: 15:00-20:40 Last entry to the castle is 20:45
(*Available at various convenience stores, Ticket Bia, LAWSON TICKETS, eplus, Tsujiri Chapo Uomachi, KKday, and at the Otemon entrance ticket office on the day)
*Purchased from ticket sales terminals at convenience stores.
*Tickets for last year's rain can be kept. The date is not limited, so please come on your favorite date.
*Discounts for persons with disabilities, etc., are not available. Thank you for your understanding. .
Pre-register at Ticket Pia
Ticket Pia WEB or purchase at 7-Eleven Famima
Pre-register with Lawson Ticket
Purchase on Lawson Ticket WEB / Apply in advance at Lawson terminal (Loppy)
Pre-register with e-plus
Pre-registration at "Delivery", "Family Mart", "Smart Ticket", "web"
e-plus payment/receipt method details
Pre-register on KKday
Apply in advance with KKday (PayPay and credit card payment accepted)
Regarding same-day tickets
If you would like to purchase same-day tickets at the ticket office inside the venue, please purchase them through KKday as there may be a long line.
---
Prohibited items
●The use of tripods for photography is prohibited throughout the venue. (except press with prior permission)
●Pets are not allowed in the castle tower square.
If you want to spend a night in Kitakyushu at a discounted price, get the Kitakyushu Wanpaku Ticket!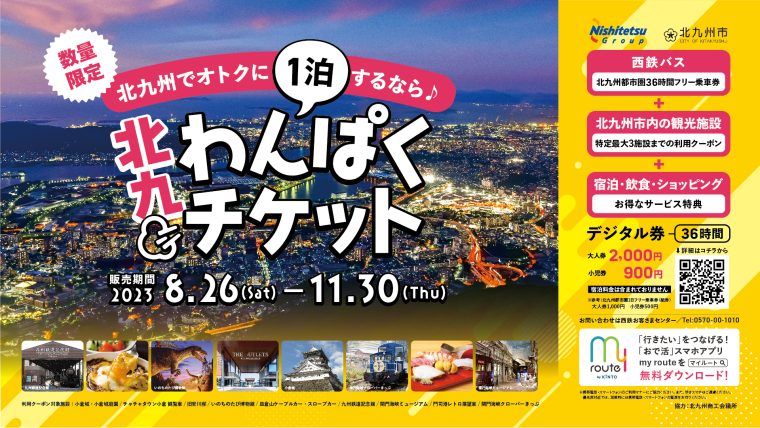 Sponsored
Kokura Castle Bamboo Lighting Executive Committee
Co-host
Kitakyushu City
Sponsorship
Sponsorship
Cooperation
Contact us
Kokura Castle Bamboo Lighting Executive Committee
3-3-20 Uomachi, Kokura Kita Ward, Kitakyushu City, Fukuoka Prefecture
TEL 070-8376-7103  FAX 093-236-2995 Person in charge: Izaki (Public Relations Subcommittee / BASEMENT Kitakyushu)
Email info@kokurajotakeakari.com